T-Shirts | Keep Calm And Trust God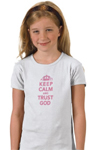 T-Shirts are so comfortable… Soft cotton, lightweight and free feeling but on the other hand this material can be a nice thick cotton hoodie or sweatshirt on the other hand can keep you warm and cozy.
A unique opportunity with a T-shirt is that they often contain a message within them, which can be understood with a picture and text. Perhaps a sports team, musical band, non-profit organization or club wants to have a printed T-shirt to advertise their entity.
We believe that advertising positive messages that can uplift society. T-shirts that silently and wisely impact people's lives. The message, "Keep Calm And Trust God" is subduing and full of inspiration.
Be part of a changing world!
---