A friend asked me if he, Jesse Brass, could do a 4 minute video of me and my artwork. I love the way that he created it and wanted to share it here. If you would like to see my art work then go to my website, www.lanawynne.com
Filed under Stories About Trusting God by Lana on Mar 27th, 2012. Comment.

Some of you may or may not have been to my personal art blog at www.LanaWynne.com and have seen the "Keep Calm And Trust God" motif that I started in June of 2010. I was listing some of my art on www.RedBubble.com and saw someone's work that said, "Keep Calm And Eat Cupcakes" and there were some other similar art. I thought this was really cute and then I began to learn about the original poster designed for Word War II, "Keep Calm And Cary On". It was never printed but the purpose was to inspire the citizens of the United Kingdom to not get so anxious over the war.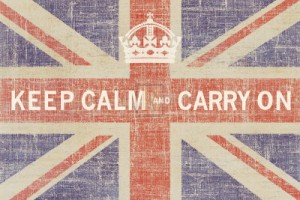 With my religious persuasion I worked with my husband on some designs for "Keep Calm And Trust God" that contained a crown, cross, the Greek letters Alpha and Omega and some others. Shortly after that I began to see these t-shirts and other items with this motif popping up everywhere. I decided to get the domain name and make this website that is dedicated not only to the motif but also to stories from people and their experience with learning to have the "peace that passeth understanding" in our chaotic world.
I am a Christian but the use of the word "God" is intentional since many different people find solace in the higher power that they believe in. Regardless, the message is the same, find peace in a higher power. Jesus said in the Bible that in the last days "men's hearts will be failing them for fear" (Luke 21:26). With the times of economic and environmental uncertainty, the energy crisis, the fast growth of immorality and many other subjects that people all around the world are noticing I believe now is beginning the time that Jesus was referring to and it may not get much better. This is a time that we need this message.
I will write a number of stories from my life as I have the time, stories in which I learned to just relax, chill out, calm down and let God "lead me through the waters and the fire".
I would also like to invite anyone to offer to share their life's experiences where they to learned to trust God. You can contact me using the contact form on the Contact Page of this blog.
I would really love to hear from you. You can share for the sake of sharing and edifying others that will receive encouragement from reading your story and if you have an appropriate website to the context of this website I will make sure you have a link back to your site.
God Bless You,
Lana Wynne
---
Filed under Stories About Trusting God by Lana on Jan 13th, 2012. 2 Comments.